Read the member stories of those that have joined Fitin30 Gym and see how they have found the experience of joining the gym, attending classes and going on to achieve fantastic results.
J has recently joined us and here is her moving story.
My Fitin30 experience all started this August 2018. I plucked up the courage to drop in and see what it was all about!!
I'm so glad I did :)
My story started 2.5 years ago when I lost my job. I felt a failure, that was the start of a downhill spiral. Depression and Anxiety kicked in so bad, I was unable to leave home without my parents. It might sound silly to someone who has not had severe depression, but my confidence was at an all time low. My doctor suggested exercise but I couldn't face the gym. One day someone who was helping me to overcome my depression suggested Fitin30 it sounded good but I wasn't convinced.
It was 12 months later that I felt ready to take the plunge.
I so wish I had felt better sooner, as I came in with a friend for support, there was no need. I was met by an Instructor who instantly made me feel at ease, she explained what was available to me and showed me around. I explained my situation to be told not to worry as they were here to support my journey. I have now been coming since Sept 2018 I'm loving it. I'm on the 90 Day Inch Loss Challenge, it's fantastic, great support with fitness, nutrition and well being. The staff are Wonderfull and friendly.
If your feeling like me, I highly recommend Fitin30 Gym it's all girls supporting each other in a very friendly environment. Its not only good for your body it's good for your head and well being.
Julie's story
I feel so much better and fitter since joining Fitin30. My body is looking amazing! Thank you everyone at Fitin30. PS Ive just worn a bikini for the first time in 20 years.
Julie has just had her assessment and what great results she has achieved, she has lost 23 inches, BP is down 120/79 Body Fat down 5.3% BMI down 0.7% and has lost 2.8kg (6.2lbs)


Linda's story
Linda first joined us in September 2014, taking advantage of our 90 Day Challenge [link to offer]- an introductory membership. She had such great results in just 3 months, and enjoyed it so much she then signed up for a full year's membership. Her consistency was terrific until, as so often happens, life began to get in the way and she decided to take some time off from our gym. However in the meantime, she enrolled at Petroc and qualified as a Level 2, then a Level 3 Fitness Instructor, all whilst holding down a demanding full-time job, being a mother, wife and Carer for her mother-in-law, and helping to run a smallholding! Some people have SO much energy and determination.
Having gained her qualifications, she approached us to see if there was an opportunity for her to put her learning into practise. Linda then began to work with us in the gym, doing just a couple of shifts a week- and our members loved her: great sense of humour, a sensitivity towards them based on years of experience of helping people in her full-time job, and the ability to deliver exercise programmes which members enjoyed but which also delivered results. Sadly, Linda`s other commitments became more demanding and she no longer works with us. However she re-joined in Oct 2016 as a member and we're very pleased to have her back!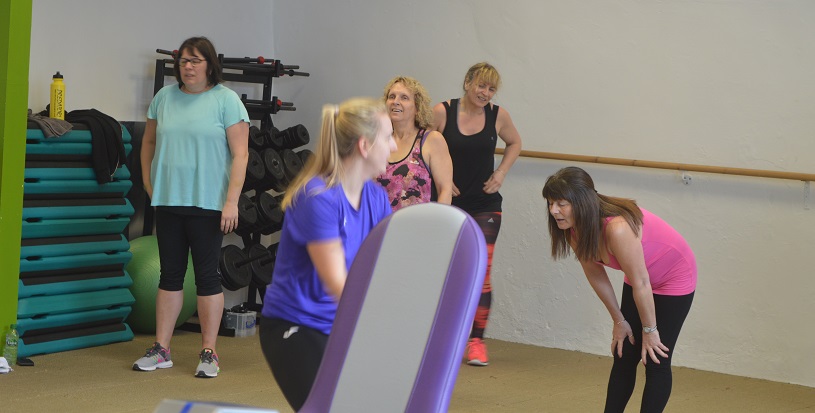 Sue's story
Sue came to us in October 2014. She was very consistent with her attendance, working extremely hard on every visit, as well as joining in some of our classes. Needless to say, her results were impressive - she lost a total of 20.5 inches over the year, along with improvements to her blood pressure, body fat and resting heart rate. Both her strength and endurance were impressive, and she decided she'd like to experience another gym locally, as well as doing some swimming. We were sorry to lose her, but we understand that sometimes we're just too successful at motivating people to become serious about their fitness and they choose to 'move on'. However in Sue's case, through no fault of her own, this was less than successful. While exercising at her new venue, Sue experienced considerable pain in her foot. Having asked for advice, she was told it was probably just a sprain and she could carry on, as long as she was careful. It later transpired that she had actually broken her foot in 3 places. Sue felt the advice and supervision had been inadequate, so as soon as she was able, she came back to us, Fit in 30, where she knew she`d get the best advice and supervision we can offer. And we were VERY pleased to welcome her again.
From her re-joining in September 2016 to her first re-assessment in November 2016, she`d lost 11.5 inches and there were significant improvements in her resting heart rate, blood pressure and body fat. Well done Sue! It proves hard work, with the correct exercise programme and supervision, will help achieve those goals.
Barbara's story
Barbara joined us in Sept 2016. Her son's wedding was on the horizon and she wanted to look her best! Who wouldn`t? But Fit in 30 wasn't the only exercise she was doing. We have realised that she will take part in a group `PT` session in the park before coming to us to go through her programme. In addition she attends Slimming World and does Water Aerobics once a week! How's that for sustained effort? But she felt things had plateaued a little so she wanted to try something different to kick start things again. That was a great decision.
After just 3 months, at her first reassessment, Barbara had lost a staggering total of 25.5 inches, 5.1 kg and her body fat and BMI had improved significantly! These results were SO good, she was our Member of the Month for December 2016 - and very well deserved it was too!
She continues to attend on a regular basis, and with eyes firmly fixed on that wedding, there's every reason to believe she'll look fantastic on the day.

Jane's story
Jane joined us in March 2016, when life was proving to be a challenge, for all sorts of reasons which it would be inappropriate to share here. However, she has persevered with her exercise, taking a little 'time-out' when she feels the need, but returning on a regular basis because she really feels the benefit for her overall well-being, as well as her physical fitness.
Measurable results include a lowering of her blood pressure and a significant improvement in her resting heart rate and body fat. In addition she's taken advantage of our nutritional consultations with a view to improving her diet. We've also noticed how she's begun to interact with other members, showing off her caring nature and making friends in the process.
Jane penned a super poem, written when we were known as Go30, which we think encapsulates the experience at Fit in 30. We hope you'll agree...
"Go to Go30"
I go to Go30 to fulfil my dream,
Go30`s making me strong and lean;
Toning my muscles and trimming my thighs
Out of sight of those weight-lifting guys
Showing off in the regular gym,
Who don`t come here cos they can't get in.
Calling all women: go to Go30 now,
If you want to get strong, they`ll show you how;
It`s true they won't give you an easy ride
But the Trainers are always on your side;
They'll soon figure out how much you can do
And they`re always willing to work with you.
Whether you're grieving or anxious or sad
In a very short time you won't feel so bad.
If you're deeply depressed or just feeling blue
The Go30 programme will be good for you;
And not only that, with it`s warm atmosphere,
You'll soon make friends, without any fear.
Go30 offers, of their own volition
Professional advice on good nutrition.
They'll take a look at your weekly diet;
If they suggest a change, go on and try it.
So go to Go30, go as often as you can;
In no time at all you`ll be a Go30 fan.
© Jane Paterson Basil
Thank you Jane!